Decatur Street is a narrow one-way road in New Orleans' French Quarter. It is home to galleries, restaurants, shops and the House of Blues. On Monday, October 11th, 2010, the places on the street that were normally filled with the cars of tourists and diners were now consumed by a semi truck and three tour buses, filling the length of the block. Someone big was in town. That someone was Three Days Grace.
Originally scheduled to perform with Nickelback on the 12th, Three Days Grace scheduled this special concert after the Nickelback arena show was canceled. Running slightly behind schedule, the doors opened late, by which time the line of fans had nearly wrapped around the block. Through the sea of people in the packed venue, a single acoustic guitar sat silently on an upholstered chair on stage. This was to be a night like no other.
Adam Gontier, Neil Sanderson, Barry Stock and Brad Walst took to the stage at 8:30 PM. They settled into the living room set, complete with comfortable chairs, lamps and candles and started a spectacular evening of true, honest rock music. There were no bells and whistles. There were no backing tracks or fancy lighting rigs or flaming explosions. Four guys with their guitars, their drums and their keyboard simply played music. They explained that after the original show was canceled, they immediately decided to play a headlining show in New Orleans instead. They were met with the audience's robust cries of "Fuck Nickelback!"
They began the show with an acoustic set, featuring songs that they have not been playing recently. They opened with Lost in You, a ballad off of 2009's Life Starts Now album. This was followed by Get Out Alive, Drown, Wake Up and Gone Forever. The band was obviously enjoying themselves and it showed in their performance, despite one or two lyrical missteps. It had been a while since they had performed some of these numbers. Gontier remained on stage alone after the last song and performed the Alice in Chains song Rooster. At times, the audience was singing so strongly, his voice could barely be heard.
After a fifteen minute break, during which time the crew broke down the acoustic set, the band returned to the stage to rock the House of Blues with a full headlining set. They played for a total of over two hours, an extremely rare length of time. The crowd stayed up and ecstatic through the entire set, from the opener I Hate Everything About You to the last song Animal I Have Become.
The air in the venue was charged with excitement as the band tore through all three singles off of Life Starts Now. They were very interactive with each other and brought a lot of energy to the stage. Before the start of Break, Gontier swung his whistle back and forth in front of Stock's face like hypnotist until both of them broke into laughter.
The crowd heartedly joined in singing during the bridge in Home, after which the band went off stage, leaving Sanderson to decimate the crowd with his ferocious drum solo. The full band then returned to the stage for I Don't Care, a song that Gontier said he thought the audience would know, and if they didn't, "Then I don't know where the fuck you've been. I mean that in the nicest possible way."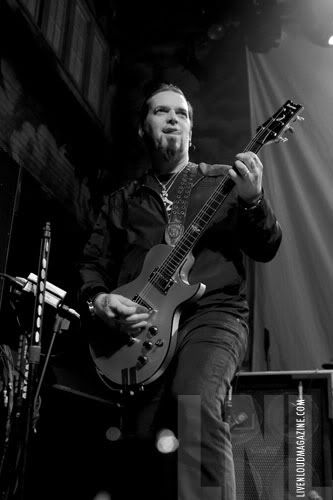 After playing Last to Know, Never Too Late and Riot, the band left the stage for a few moments. Gontier returned alone, asking for a cigarette. Someone from the audience threw one to him, which he picked up and then ran to the side of the stage to get a light. The next minute and a half was just a rain of cigarettes onto the stage. The crew was running out to pick all of them up and Walst ran out to grab one for himself. About one breath after the last cigarette had been picked up, a joint landed on Gontier's foot, which was met with resounding cheers from the audience. Moments after he picked it up and showed it to the audience, Sanderson ran out from stage left and grabbed it, miming thank you to the crowd, while Stock ran out from stage right, miming disappointment in not getting there first. Gontier said, "If I smoke that joint I won't be able to sing you this song!" At which point he broke into Phil Collins' In the Air Tonight.
Finishing out the night with Animal I Have Become, Three Days Grace left the crowd on a true high from a show that no one will soon forget. It was a privilege to have been there for such a magical event.
Check out those 2 photos galleries from the shows:
Category: Photo Updates, Reviews